Sports Betting – Types of Bets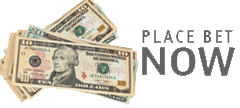 Sportsbooks, whether online, or in Vegas, have a way you can bet on all the different sports.
You may find sports with different odds, different betting rules, or different bets that the sportsbook decides to use. However, the basics of sports betting are the always the same, and you can join any sportsbook on the internet and understand what is happening.
Many different bets are available
There are a lot of bets, and internet sportsbooks as well as Vegas bookies use the them all. There are probably dozens of other sports that use the same principles of betting and use different types of bets that make it fun, different, and a lot more thrilling. Here's a list of some of the major sports bets you might run into at your favorite online sportsbook.
We wrote the following bet type tutorials to explain Straight Bets, Point Spreads, Total Points betting, Futures, proposition bets, Parlays, Teasers, Pleasers, Round Robins, If Bets, Reverses, and Point buying. Just click to read.
Sports Betting Basics
Sports Betting – Types of Bets