Ronda Rousey And Vegas Sportsbooks Hit Hard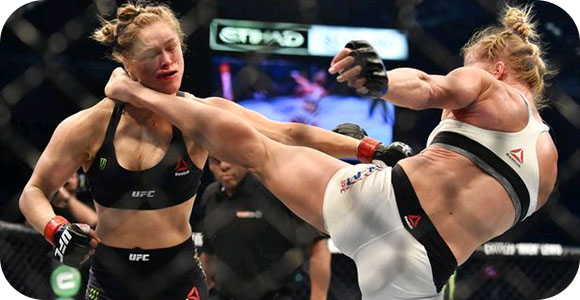 One of the biggest female
UFC fights
that has been marketed, and the
Las Vegas sportsbooks
were on top of that popular bout, but it did not go as they predicted. The fight between UFC Champion
Ronda Rousey
and
Holly Holm
was expected to be huge in the world of sports, in part due to the popularity that Rousey has gained through her knock-out fights. What really drove many sports bettors, as well as the books to the edge was the fact they were giving Rousey huge favorite odds, as well as giving Holm great underdog odds. There are no official tallies on how much money was lost during the weekend, but it looks to be a very large amount. At one point in time, the
Westgate Las Vegas Superbook
was giving Holm 14-1 odds, and the last
odds were down to 6-1
for her to win, while Rousey was given 1-9. So, people that wanted to wager on the underdog with only $100 could actually have walked away with $600 to $1,400, and there were plenty of these believers. It can't be all that bad, as there were still plenty of high-rollers that placed big bets on Rousey to win. For example,
YIKES: Someone bet $72,000 at a @williamhillus sports book on Ronda Rousey to win on Saturday night for the chance to net $4,000.

— Darren Rovell (@darrenrovell) November 16, 2015
Depending on whether more bet on Holm or Rousey, the Vegas sportsbooks may be looking at a big loss during the UFC weekend fight. Rousey is now 12-1 in her professional fighting career, has taken to social media to say she will be taking some time off, but expects to return to the octagon to fight again. These are the kind of fights that not only bring in the attention of sports lovers, but also brings in the money.