49ers Gave Las Vegas Sportsbooks A Breather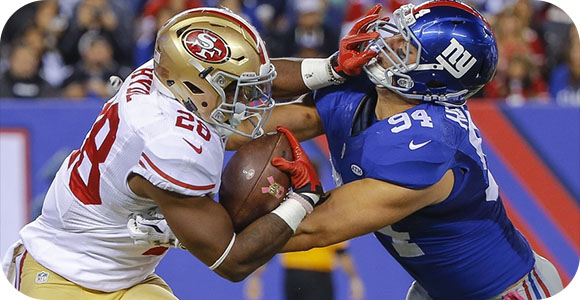 During the bulk of the
NFL Sunday football
games,
Las Vegas sportsbooks
were doing well this week considering their
previous setbacks
. As
Caesars
, having won seven of its eight decisions so far, along with the
Westgate SuperBook
,
CG Technology
and the
Stratosphere
were having solid mornings. However, over at the
MGM
things were not looking so good, as all three of the favorites (Denver, Arizona, New England) were being heavily bet on to cover the spread. This could have potentially led to them having to payout big, seven-figures big. This is when the last game of the night gave them a break, where the
San Francisco 49ers
were facing the
New York Giants
on the Giants home field. The 49ers had a 7.5 point spread as the underdogs, and ultimately were able to cover that spread; 30-27. Although they lost the game, sportsbooks all over Las Vegas breathed easier knowing that this had saved them. The reason for this sigh of relief was due to the fact that eight time more money had been bet on the Giants than on the 49ers. However, you can certainly thank the NFL team for this, as they played extremely well. As they
were graded
pretty well:
Coaching Staff: B
Quarterback: A-
Running Back: A-
Receiving: B+
Offensive Line: C+
Kicking: A
Punting: B-
Returning: B-
Pass Rush: C
Secondary: C
Inside Linebackers: A-
This was their best game so far this season, and shows that they are still a team to contend with. The results will have sportsbooks all over changing their lines and odds for future games that involve the 49ers; or at least they should.